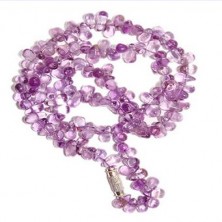 Amethyst drops necklace
Amethyst drops necklace

A beautiful Amethyst beads necklace in drop shaped beads. Worn close to throat.

Amethyst is a stone of spirituality and contentment. It has the ability to absorb negative energy while emitting positive energy. It is considered a stone of wisdom as it increases ones psychic awareness.
Length: 18 inches

Bead size: 9 mm

Prodcut Price: RS: 425
NOTE:
RUDRAKSHA PRICES AND AVAILABILITY ARE SUBJECT TO FLUCTUATIONS. WE WILL LET YOU KNOW IF THERE ARE ANY CHANGES IN PRICE AS SOON AS WE RECEIVE YOUR ORDER.